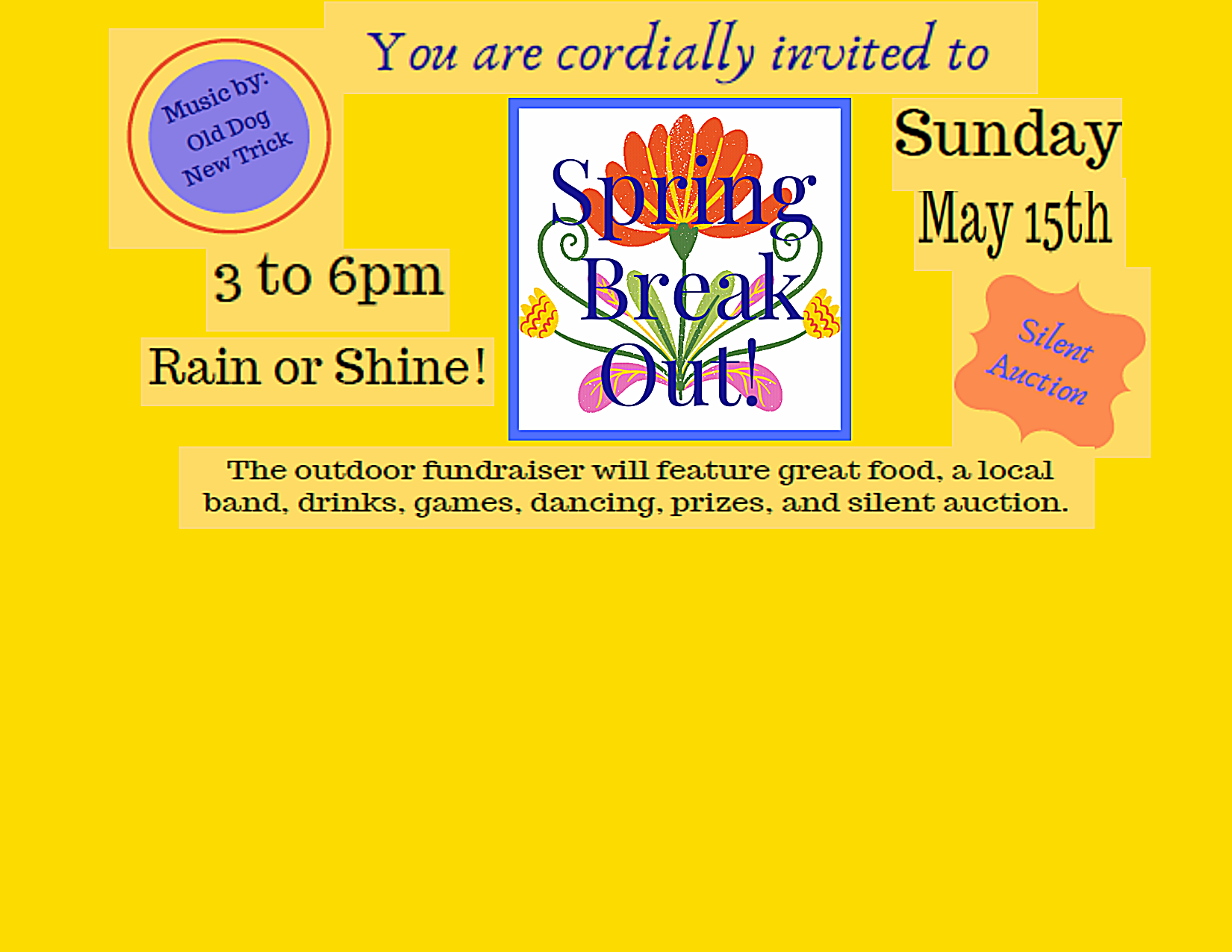 Spring Breakout! ~Sponsors & Donors~
Thank you to all our sponsors and donors who made Spring Breakout! a successful event!

Adorable Pets ~ Acer Gardens ~ AJ's Pizza~  Elizabeth Adams~ ~Balleks ~The Blue Oar ~Tanya Bottaro- Raveis Real Estate~ Brewed Awakening ~Donna Brinckerhoff ~Gail Christie~  Marijean Conrad~ Peter Charbonnier~ Cooking Company~ Country Framer ~ Coyote Blue ~Sam & Pam Crum~ CT Rental Center ~Deb's Restaurant~  Roe & Ray Dennis~  Dutch Oil ~Fireworks Hearth & Home~Fromage~ Gelston House ~ Ginger Made~ Gingerscapes LLC~ Caroline Gold~     Goodspeed  Station~ Gran Arso~ Haddam Congregational Church~ Haddam Garden Club ~Hi-Way Package Store~ HK Dairy Queen~ Hull Studios~ Ivoryton Playhouse ~Jack's Restaurant~ Mary Karkutt-Kulak ~LanceScaping ~ Liberty Bank~ Liv's Oyster Bar~ Luce Restaurant~ Lynn MacLennan~ Madison Arts Theater~ ~Malloves Jewelers ~ Market 37~ McColl Chiropractic~ Mike's Rotisserie ~ Laurie Mongillo~ Ed & Judy Munster~ Mystic Market~David Neal~ Nutmeg Pharmacy~ Isabelle O'Hara~Pasta Vita~ River Tavern~ RJ Julia~ Ruby Belle Vineyards~ Dodie Ruimerman~ Shagbark Lumber~ Shoreline Discount Liquor~ Simon's Marketplace~ ~Marge Supple~ Tim Teran~Teri's Package Store ~Tiger Carlson~ Tony's Package Store ~Town & Country Nurseries ~ The Tree Company~ Wellstone Farm ~Wheatmarket~ Wild Birds Unlimited~Bill Wiley~ Dr. Robert Wintsch
Please patron our these local business!
---